If you've been following us for a while, you know that we've accomplished our main goal of visiting and staying in all 49 states, plus most Canadian provinces and a little bit of Mexico since we began our full-time RV saga on March 1, 2012.  We've seen a lot, but of course there's more of the U.S. for us to discover and re-visit.
Betsy has been our home for almost 8 years, traveling over 54,000 miles while visiting 480 campgrounds.  We feel like we've had about enough of driving, trip planning, and dealing with the increasingly difficult task of competing for camp sites with all of the new RVers.  The whole atmosphere has changed drastically since we started, but we feel blessed to have enjoyed the fantastic years we've spent on the road.  Over 500 blog posts have taken a toll on me as well, so I'll be getting a needed break for a while.
After our wonderful Viking Grand European River Cruise in October 2017, we started thinking about taking a big trip to see as many of the amazing places around the world that we've only dreamed about as we could in one cruise.  As everyone knows, many countries are in turmoil and not getting any more stable, and we don't seem to be getting any younger.  So we decided to take the plunge about a year and a half ago and have been steadily working toward this adventure that's starting in a matter of days.
Betsy will rest in Tucson while we're gone, and during the trip we'll discuss our future with her and finalize our plans to settle down in a "real" home.  Steve's pretty excited that he won't have to drive or dump tanks for several months!
So what about this big adventure?
We'll be sailing on 2 oceans and 12 seas with Viking World Wonders, a 119-day journey from Los Angeles to London that visits 27 countries and 55 ports.  We'll depart on January 4, and with extra days in London we'll return on May 4.  That's right, we'll be aboard Viking Sun for 4 months!  Cruising isn't for everyone, but we've enjoyed several of them and feel like it's the best way for us to see a lot while spending every night in the same bed and only having to unpack/pack once.
We thought we were done with ocean cruises, but this one got our attention when we learned the ship carries only 930 passengers (not 4,000 like the mega-ships), nobody under 18 years old allowed, and no fancy stuff like casinos or rock-climbing walls.  As always with Viking, shore excursions are included at each stop as are airline reservations.  Perfect!
We made the commitment in 2018, and six months ago our pre-cruise preparations started to ramp up:
Travel insurance – check
Current passports – check
Visas for multiple countries -check
Business-class airline reservations (included) – check
On-shore excursion reservations – check
Specialty restaurant reservations – check
Complimentary luggage forwarding – check
Vaccinations – check
Vacation override on prescriptions – check
Suspend services and utilities that we won't need – check
Install VPN software on our laptops – check
Call banks/credit cards – check
Get Betsy prepared for a 4-month rest
And so much more to do and pack – ongoing until departure day
Am I forgetting anything?
Our blogging plan during the cruise is for Steve to sit down each evening and write a short post about the day's adventures, and I'll include a few pictures.  Yay, I get a break from full-scale blogging 🙂  We're supposed to have WiFi during the entire trip, but unless things have improved the past few years that usually isn't the case and we'll post as we can.
The final countdown to our big day is underway, the excitement has set in and there's only one thing on our minds now!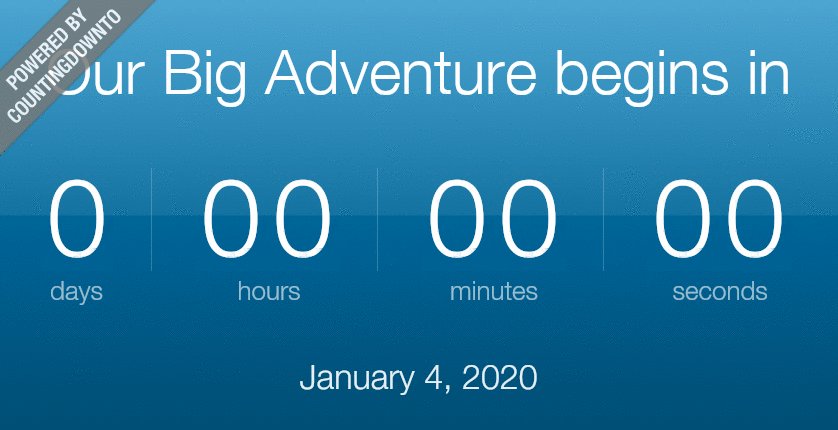 ---
---